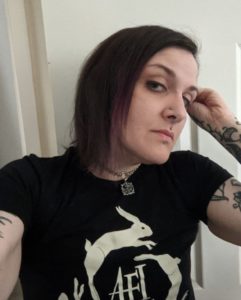 With Vesper's years of study and practise in the fields of anatomy, physiology, embalming, biology and restorative art from his University degree in Funeral Services from St. Petersburg College (St. Petersburg, Florida) prior to his career in modification, he brings a medical background and unique perspective to their craft. He also completed a year long apprenticeship in piercing and body modifications training under Alfie Baker along with years of working in the field that a 4 to 6 day piercing course cannot compare with. All of his equipment and jewellery is medical grade and is one of the few studios with a medical autoclave from Prestige Medical Equipment to ensure everything he uses is medically sterile.
For Vesper, piercing and modification are his passion and he focuses exclusively on body piercing (including genital/intimate and microdermal implants), scarification, transdermal (silicone) implants, and branding. His goal is for every client to express themselves and realise the vision they have for their body.
Vesper endeavours to provide every client with exceptional professionalism, eye to detail, design, and technique at a competitive price given his abundant qualifications. Vesper also holds all necessary registrations, insurances and certifications with the local authority to practice his craft.
OokySpooky is proud to exclusively use and offer luxury implant-grade titanium and 14ct/18ct gold jewellery from Industrial Strength, Invictus, Junipurr, Tish Lyon, QualiTi, and Ti Couture which are manufactured in the UK and USA.